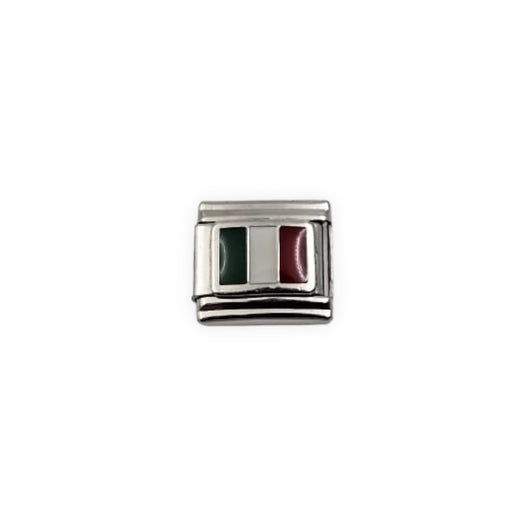 Free Shipping Over €50 (worldwide)
Description
Experience the ~Italian~ charm of Italy! Let its flag of red, white and green show you the way to a truly unique journey of discovery! 🇮🇹
DESCRIPTION & DETAIL
Tucci Charms, our own brand of high-quality Italian charms and bracelets made from 100% stainless steel.

Our charms are designed to last, with durable materials and exquisite craftsmanship that will make them the perfect addition to any charm collection. Whether you're looking to start a new bracelet or add to an existing one, Tucci Charms offers a wide variety of unique designs to choose from.

A bracelet has 18 links on average, and each link can be customized with your own personally selected charms.

Start building your own one-of-a-kind charm bracelet today with Tucci Charms!
INFORMATION
Material: 100% stainless steel
Charm Size: 9mm
Average Bracelet: 18 charms
Compatible: with other Italian charm brands
Hypo-allergenic: safe for sensitive skin
Durable: resistant to tarnishing and discoloration
All our jewelry are made of 100% stainless steel material. This means the colour will last for a really long time. The charm will not fade easily and it is also an anti-scratch material.
NOTE: please keep in mind that the small enamel plate where the design is printed on may experience fading if exposed to excessive moisture, such as wearing it in the shower or during swimming. To maintain the longevity of your designs, we advise removing them before activities involving prolonged water exposure.
JEWELRY CARE
At Tucci Charms, we pride ourselves on using only the highest quality materials and craftsmanship in the production of our Italian charms and bracelets. We want your Tucci Charms to last for years to come, so it's important to take good care of them. Here are some tips to help keep your Tucci Charms looking their best:
Avoid exposure to harsh chemicals
Clean regularly
Handle with care
Store in the Tucci bag
FAQ
Are Tucci Charms bracelets adjustable?
Yes, Tucci Charms bracelets are adjustable to fit most wrist sizes. Check our Bracelet Size Guide to see exact details.
Can I add or remove charms from a bracelet?
Yes, you can add or remove charms from your Tucci Charms bracelet by unlinking the charms by yourself.
Can I mix and match Tucci Charms from different collections?
Yes, Tucci Charms are designed to be interchangeable and can be mixed and matched from different collections to create a truly unique and personalized bracelet.
Shipping
Fast shipping
We offer fast shipping on all orders, and most orders are processed and shipped within 24 hours. Shipping times may vary based on your location and chosen shipping method. For more information about all other shippings please refer to Shipping & Delivery.
Order tracking
We offer order tracking on all orders. You can choose to include order tracking at checkout for an additional fee, or opt for standard shipping without tracking to save on costs.
Get in touch
We're here to help! If you have any questions or concerns, please don't hesitate to reach out to us. You can contact us by email sales@tuccicharms.com or via the contact page.